Going on holiday is something we all look forward to. Making sure that you have no stress when you are away is sometimes a challenge though.
It always feels like preparing to be out of the office with no communications can be the most stressful part of planning to be on holiday. It doesn't have to be that way though!
3 weeks before you go
Warn people that you are going to be out of the office.
Identify the people who need to know you are going to be out of the office:
Your boss
Your staff
Colleagues who will look after your work
Stakeholders involved in your work
Prepare an e-mail to each group that explains that you are going to be out and explaining how you will delegate to others to ensure continuity while you are out.
2 weeks before you go
Start to let everyone know you are going to be out and schedule meetings with colleagues who you will be delegating responsibilities to.
Schedule Handover Meetings
It is worth scheduling handover meetings to those who will assume your responsibilities whilst you are away. Ideally, they will have a good understanding of what they will need to do and will not need much of a handover but providing a clear set of actions and expectations of what is expected to happen is always useful.
Scheduling meetings for you to handover to your responsibilities is important, but don't forget to schedule meetings for when you return so that your delegates can hand back to you.
Tip: Use OneNote to record your handover notes and share the OneNote with your delegate.
Set an advance warning message on your emails.
This is a useful trick that works even when your company sets an automated email footer.
Click "File"
Click "Options"
Select "Mail"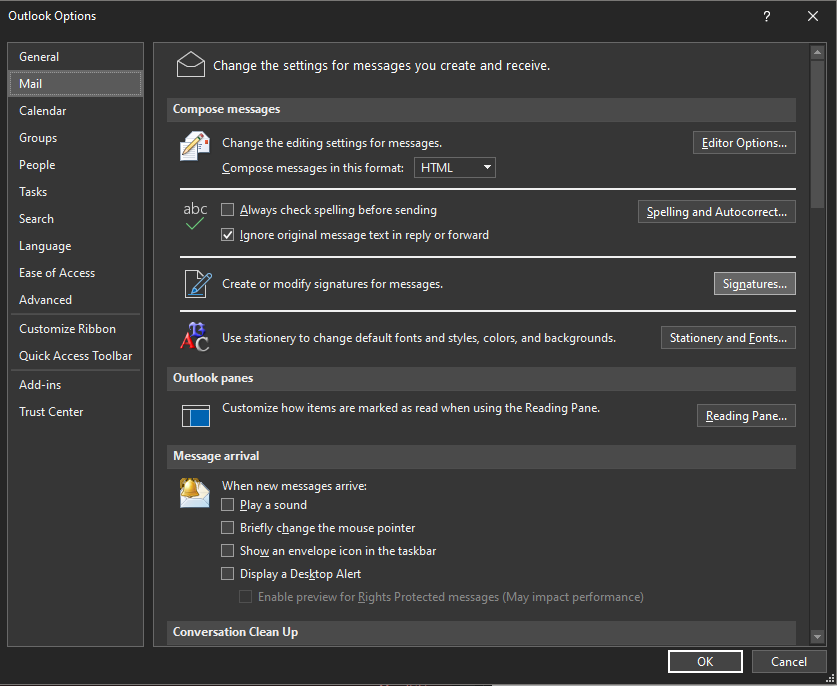 Click "Signatures"
Click "New" to create a new signature
Provide a name for the new signature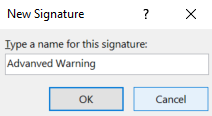 Click "OK"
Enter the content of your advanced warning message
Select the signature to be included when you are creating new messages and replying or forwarding messages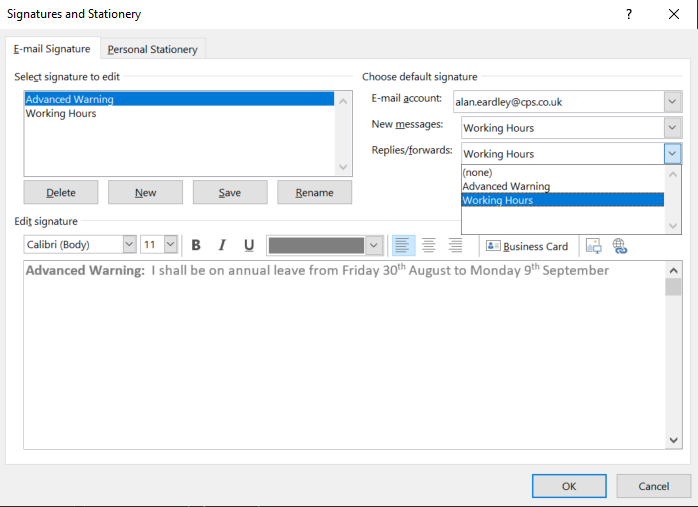 1 week before you go
Update your handover notes and carry out your handover meetings. Make sure to mention to everyone that you are on going to on annual leave and check if they have any questions, concerns or risks that your delegate needs to be aware of.
Tip: If there are specific tasks that need to happen, use Planner to set up the tasks and To-Do to track them
Provide emergency contact details to your boss (if you are happy doing that :-))
1 day before you go
Set your out of office message. This used to be for email only but it is now visible in Teams as well so it is very important to have it set up correctly.
Many people set up an out of office that just says that they are out. That doesn't really help! The following is a guide for the information that you should consider putting in an out of office message:
| Internal Recipients | External Recipients |
| --- | --- |
| When will you be back | When will you respond to messages |
| Who should people contact for different reasons Detailed list of people Contact details for people (email/mobile/extension) | Who should people contact for different reasons Public facing list of people Contact details (email) |
Whilst Away
One of the drawbacks of out of office messages is that they send only once. To overcome this, you could update your out of office message while you are away.
This could be done as a serious activity or it could be done as a playful activity by updating the message with little updates on what you are doing, e.g. I can't respond to your email because
I am on a boat to …
I am lazing on the beach
I am hiking 50 miles in …
I am drinking cocktails at …
I am riding rollercoasters at …
When you return
Hopefully the preparation that you have done before leaving has paid off and you have had lees emails than you would otherwise have had and you have smooth handovers back to you so you know what you need to do to get back into the swing.
Ideally, you will remember that you have relaxed and been on a break for more than just the first hour back in the office.
If, however, you find that there are lots of things you need to do, the next blog in this series will provide help of managing the backlog of work that has built up.
Check out my tips for returning see Return with No Stress
Table of Contents
---
Comment on this post: