Installation of Microsoft 365 Learning Pathways
---
Microsoft recently launched Microsoft 365 Learning Pathways as a solution that will allow an organisation to provision a learning site into their tenant which can then be used by their employees to learn about Microsoft 365. To quote Microsoft, the solution will provide
A fully customizable SharePoint Online communication site- The learning pathways training portal can be customized to add your organization's help, support, and community content
Easy provisioning- Provision learning pathways from the SharePoint Online Provisioning Service with just a few easy steps
The ability to create your own training playlists- with learning pathways, you can create targeted training playlists to meet the unique needs of your environment
Up-to-date content- Learning pathways provides content through a Microsoft online content catalogue, so the content at your site is regularly updated
From https://docs.microsoft.com/en-us/office365/customlearning/
Pre-Requisites
To get started there are is a key pre-requisite that needs to be in place: An App Catalogue. This is required to store the solution. By default a new tenant will not have an App Catalogue so one will need to be created
The steps to do this can be found at https://docs.microsoft.com/en-us/sharepoint/use-app-catalog
Note: You will need to wait at least 2 hours following the creation of a new App Catalogue site collection before the new site collection will be fully provisioned and pass the checks carried out prior to the provisioning. You will see the following message if you are too quick: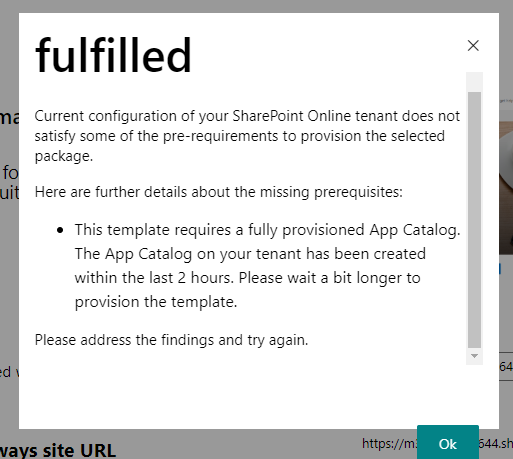 Provision the site
You are now ready to provision the site assuming that the App Catalogue site has been created, and the user who is provisioning the site fulfils the following criteria:
They have the Tenant Admin role
They are a site collection owner for the App Catalogue site collection
There is not much information that is needed: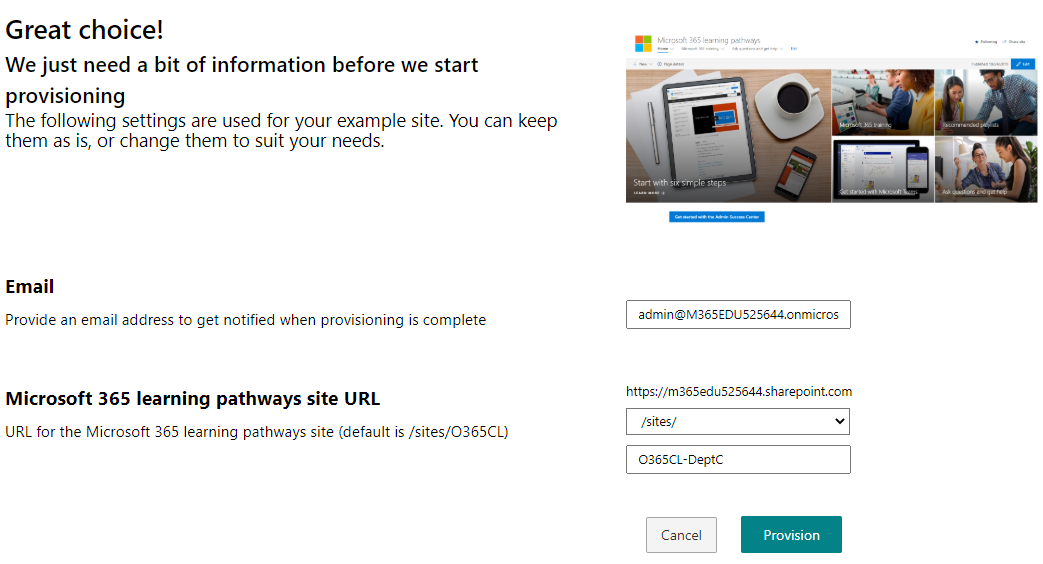 The email address is where the notification that the provisioning is complete will be sent and the URL is where the site will be provisioned.
Once complete the following email will be received.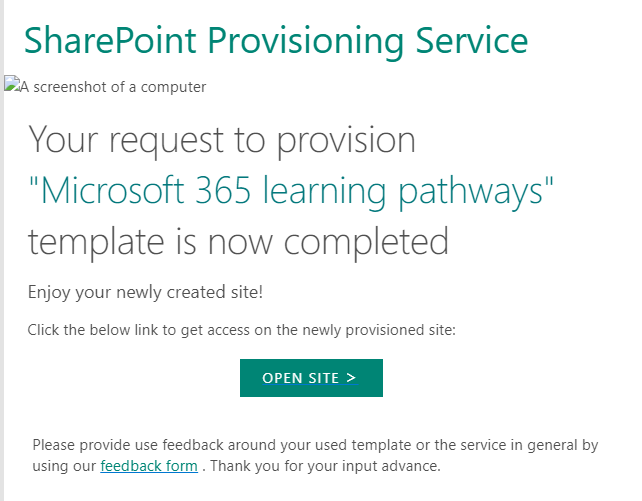 Multiple Sites
There may be some scenarios where it would be useful to have more than one Microsoft 365 Learning Pathways site, and it may appear that it is possible by repeating the provisioning process with a different URL.
Although the provisioning will appear to work successfully, this is not supported as the provisioning process uses a tenant level property to identify the site.
The result is that the original site will be made partly unusable and the following error will appear in Console of the browser when the site is loaded:

The key area of the original site that will become unusable are the admin interfaces making it impossible to further manage the content that is published on original site. As an end user, the content is still accessible.
Table of Contents
---
Comment on this post: